Wins for Warwick at Tideway Heads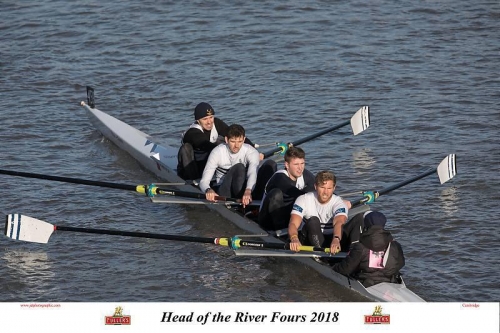 Last weekend saw 5 Warwick crews race in two of the country's biggest rowing races in London.
Saturday was Fuller's Head of the River Fours with around 500 crews racing over a 4 ¼ mile course from Chiswick to Putney. Warwick's top men's and women's crews battled it out in the Intermediate and Challenge categories respectively. The provisional results listed the men's crew as 2nd to London RC by just 2 seconds in a time of 21:11.9. However a time penalty was awarded to London for fouling and unsportsmanlike behaviour which meant Warwick was awarded first place in the Intermediate category. Congratulations go to Andrew Collett, Fraser Jefferies, Philip Tonkin and Andrew Whitbread, coxed by Samantha Wesley.
The women's crew of Emma Tod, Emma Raynor, Claire Hurley and Olivia Joyce, coxed by Tanya Podinovskaia took a respectable 9th place out of 26 in the Challenge event, in a time of 23:33.8, one of the best performances Warwick women have achieved in years.
Sunday saw further success in the Veterans Fours Head with over 250 crews racing over the same course, split by age categories. An outstanding performance from Paul Gosling, Steve Sidaway, Graham Giles and Andre Delahaye meant a win in Mas C 4x- category in a time of 19:12.0 and the 4th fastest crew of the day, the best result for Vets Fours ever achieved for Warwick. The win was particularly impressive given the crew hit an obstruction under the water during marshalling and completed the race course with a severely bent rudder!

Also racing were Mas E 4+ with Bill Haynes, Martin Le Tocq, Andy Walsh and Chris Stratton, coxed by Yana Vinogradova, coming 8th in their category out of 11, in a time of 22:17.9, 140th overall.

Finally, Mas G 4x- of Keith Kennedy, John Vedy, Ken Butler and Mike Rigby suffered a collision on the course but despite the obstruction, came 217th overall in a time of 24:05.5.
Huge congratulations to all crews, but in particular to the men's four on the Saturday and the quad on the Sunday for the spectacular wins. London is a huge event with strong competition from London, international-standard and crews from abroad. It is always an achievement not to come last, but to have two crews win their events over the weekend really is an achievement Warwick is very proud of. It is also great to see crews of such a wide age range enjoy the sport and race at a high level.
Photo Gallery