Five in a row as tennis seals easy win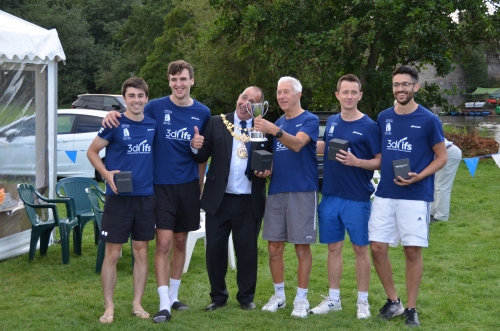 Team Tennis scored a fine victory in Saturday's rowing Regatta, despite some startling tactics from the novice squash crew. Congratulations to
Stroke: Duncan Jones
3: George Morley
2: Craig Davies
Bow: Adam Saumtally
Cox and coach: Ken Butler
Background
The final race of Warwick Regatta is the Patrick McCloskler Challenge Cup aka "Tennis vs Squash", where four Tennis members take on four Squash members in coxed fours.
The crews have only four coaching sessions in the run-up to the event. To be eligible the crew members must not have rowed before although past participants can row again.
In the spirit of the event Tennis, having won the past five consecutive races, opted for an all new crew.
The Trophy was introduced in 1992. Squash have won 16 times and Tennis 12.
Comment
"It takes something special to get into a racing boat for the first time and in just four outings row a 500m course at race pace. A great performance by Duncan, George, Craig and Adam!" Ken Butler

Photo Gallery