Open Mixed American tournament- Sunday 18th September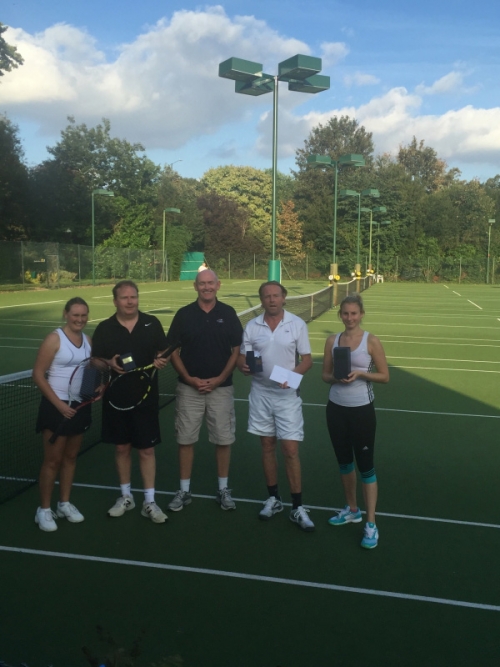 Nineteen pairs were split into three groups, two of 6 and one of 7 so people were going to have lots of tennis whether they were lucky enough to make it through to the quarter finals or not. Many familiar faces returned and as usual, the tournament was very well supported by our many friends from Northampton LTC who seem to come year after year, many bringing their non playing families too to offer their support.
As in previous years, the general standard was very good and only the very best made it through to the last eight, including our very own Gavin and Ariadne. Whilst they won their quarter final match, they sadly didn't make it to the semi finals, losing 6-4 to the beaten finalists. In fact, the favourites (on paper) both lost in the semi finals.
The final was subsequently between Ben Watkins and Fiona Speak from Solihull TC and Richard Broadhead and Rachel Scott from Edgbaston Archery.
A very close final saw Richard and Rachel come from 0-3 down to win 6-4.
Peter Grant presented them with their cash prize and also thanked Carl Norton for once again running the tournament in an efficient manner, whilst also acknowledging Gavin for all the pre-organising and Libby's team of many helpers on the day who provided fabulous food, tea and service behind the bar.