Jenny Waggott: Life at the top!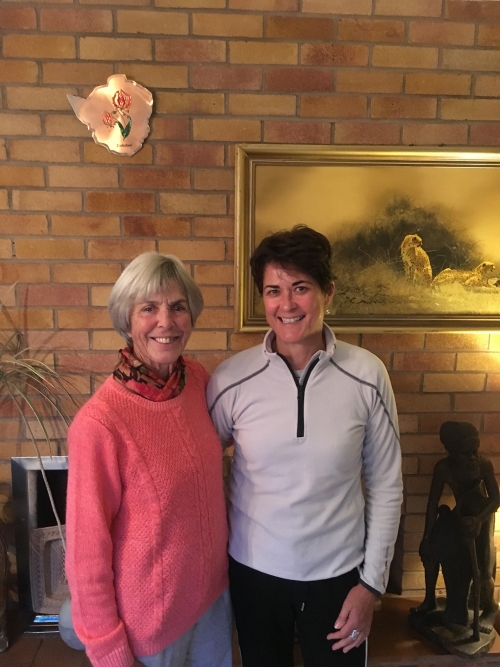 At just 5 years old, Jenny started off playing tennis by hitting a ball against the wall of her house, and has now represented GB for 25 years in 14 countries. Modest about her tremendous achievements on court -whether as player on the world stage or coach par excellence - Jenny is a force to be reckoned with. When you meet her today, you cannot fail to be struck by her warmth, lively sense of humour, directness and most of all, modesty about the amazing and eventful life she has led thus far:' I'm a really normal person' she says :'I mean, I don't think I've done anything special.'

The early years
So where did Jenny's love of tennis start? Born in Rhodesia (now Zimbabwe) in 1943, Jenny Morris was the middle of three sisters. Their father, Dudley 'Podge' Morris, was of South African descent. His parents had arrived in Rhodesia from South Africa by train and ox cart. Her grandparents started farming tobacco and maize, and then Aberdeen Angus cattle, bringing the bull over from Scotland. Jenny used to visit the farm to visit her Gran and was a bit of a tomboy: 'I used to go to the show. I was better than my cousins at judging whether they were a good cow. I learnt how to milk and drive a tractor. I loved the farm!' remembers Jenny.
Her father held very senior positions in the Southern Rhodesia government all his working life but was also a great sportsman. He played tennis, cricket and rugby for Rhodesia. He was to inspire in Jenny especially a love of the outdoors, the farm and sport –notably tennis. At just 5 years old Jenny had her own wall of the house for hitting, as did her sisters. If any of them wanted their father to play before school, they would have to wake him up and ask him. Jenny never had any formal coaching as such. But clearly her father was a huge influence: 'He played with us and he must have taught us what to do. But he never did top spin, it was always just 'racquet back and follow through'. Even now I don't do top spin in a match....' She subsequently had a long term boyfriend, Roger Dowdeswell, son of a coach. 'She was the most amazing coach. She was my inspiration and coach on an informal basis'. But, she is at pains to emphasise, tennis was far from being the only or even main thing in Jenny's life: 'It was never the be all and end all for me. 'She also loved playing hockey for Junior Rhodesia.

Tennis star in the making
A prodigious player and champion both as a junior and senior, Jenny consistently underplays the amazing events she lived through -and engineered- in her pursuit of competitive games. At 15 Jenny won her first tennis title –the Rhodesian Junior Singles and Doubles Tournament. It was the first of some 250 national and club titles in the country of her birth. In 1961, at 18, when on holiday with her family in UK, she played in the junior event at the All England Club Championships, Wimbledon. On leaving school she went to secretarial college after which she was employed as a Private Secretary with the Anglo American Corporation, but during this period she took time out playing on the senior tennis circuit in Europe.

The Golden Years! Wimbledon and US Open
In 1964 Jenny left Anglo and flew to the UK to play mixed doubles at Wimbledon with Adrian Bey. She was 20. Her father had bought her elder sister, Elizabeth, a car on her 21st, but Jenny was adamant that she did not want a car, she wanted to travel! 'How are you going to do that?' he asked. She replied 'I'm going to play tennis!' They set about writing to various tournaments to say they were the top Rhodesian players, and would they put us up? And so off they went. She also played at Forrest Hills in the US Open for the first time.
In 1965 she was back at Wimbledon, accompanyed by her parents and sister, Fiona. She played in the mixed doubles with Roger Dowdswell. And in the same year a mystery sponsor funded her trip back to the US Open in New York. In the first round she was drawn against Maria Bueno, reigning Wimbledon champion and world no 1. Jenny has vivid memories of arriving –'We walked from the clubhouse and they carried my bags. It was a bit like the Colosseum... We go in and they say 'Who are you?' I say 'Jenny Morris'. They say 'Who have you beaten?' I say 'No-one!' 'What have you done?' –'Nothing'!' Yet Jenny managed to get 3 games off Maria Bueno and is clearly proud of this to this day.
This trip was also very memorable with the finale of the tournament revealing at last the sponsor –but who was to be the more surprised? Two weeks had gone by with no sign of the sponsor. But at the end of tournament party, Jenny started talking to a man who asked her who she was. 'I'm Jenny Morris from Rhodesia'. He replied 'But I thought you were black! I'm your sponsor....'
Meanwhile Jenny was described as a 'tenacious competitor who displays fighting qualities when the pressure is on. Her main weapon, the forehand drive, is used with precision and disguise'.
Around this time Jenny played in a Dutch tournament and was 'adopted' by the Verkade family from Holland –quite influential in Jenny's life at the time. They owned the biggest chocolate and biscuit factory in the country so Jenny got very chubby as a result! She spent some 9 months with them and had her first introduction to snow and to skiing.

Race and Politics inevitably restrict participation in international events...
Jenny's stellar career was inevitably impacted at times by world events beyond her control. International sanctions were imposed on Rhodesia and hit hard in the years 1965-1980.
She played her first Federation Cup in 1972 in South Africa.
In 1975, with Rhodesia increasingly isolated because of apartheid, just 10 minutes before Jenny's first match was due to start, France banned the team from the Federation Cup. This was her first brush with controversy: 'England had sanctions against us at that stage. If we'd beaten Spain in the first round, we'd have had to play GB –Virginia Wade was in the team. ' Sadly the team was unable to play. But despite the pressure, and showing great sportsmanship, the Rhodesian team rode high in the popularity stakes: 'Rhodesian girls tops in popularity!' said a newspaper headline at the time.'For obvious reasons, Mr Brans and his team of Jenny Waggott Fiona McKenzie and Sally Lewis have been in the spotlight from the moment they arrived... And they have acquitted themselves superbly, both on and off the courts, to such an extent that they have been referred to in several quarters as the most popular team in the tournament'.
A year later, Jenny attended the Federation Cup in Philadelphia, August 1976. She had been invited with her sister to attend by the ITF and was thrilled to go. But several nations withdrew from the competition in protest at the inclusion of South Africa and Rhodesia. This put an end to the Rhodesian team's prospects of play. Says Jenny 'of course we were upset at the time, but life goes on'.

Domestic bliss
But this was a time when Jenny had other calls on her time. Shortly after independence she returned to Rhodesia and met Ian, who was a serving member of the British South Africa Police (CID & Special Branch). They married in 1968 and had two girls, Michelle (1971) and Trudi (1974) .The family lived at the time in Salisbury and Bulawayo.
Exodus to UK in 1983
In 1983 Mugabe reforms forced the family to exit to UK. It was impossible to take money out of the country but our intrepid Jenny managed to sneak three emeralds out in her shoe, much to her young daughters' consternation! But this was a very sad time, Jenny had to leave behind so much that she loved: her father, the farm, her country. 'I never thought I'd live anywhere else, I love Africa'. She celebrated her 40th birthday in UK. 'It was really really tough' but she 'got on with it'.
The family rented a house first in Stratford and then moved to Harbury. Life was very challenging initially –a huge culture shock, and so many decisions to be made about the girls schooling et al.
Warwick Boat Club
On the tennis front Jenny soon found the club she wanted to join. Warwick Boat Club (WBC) for Jenny was love at first sight. She loved the castle and the river setting –'It was just awesome!' It happened to be the closest club too, to where the family were living. 'Why would you go anywhere else? It's been fantastic'. Initially Jenny had heard that she would need to be played in. But the captain at the time said that neither Jackie Robinson nor Jenny needed to do so. In typical Jenny fashion: 'I was a reasonable tennis player'. Of course people wanted to play with her and she was soon picked for the Warwickshire team, and then for England Vets from the of age 40 right through to present day: Jenny is now 75. When she first represented Britain, fellow team members included Wimbledon champions Virginia Wade and Ann Haydn-Jones. 'We used to practise together. She (Ann) was lovely'. In fact Ann helped fast track Jenny to Wimbledon membership. 'Jackie Robinson was going to propose me. Ann said 'would you like me to propose you?' I said I'd love you to! Within 4 months I was in –the quickest ever!'
Last year Jenny was made a full member and asked to play on Centre Court (four ladies do so each year to test the grass etc.). She reminisces for a few moments 'Centre Court Wimbledon. When you see all those people in the Royal Box. Ball boys, linesmen, umpires. My name up on the board. Really special'.
Jenny has now played for the country over 26 years and in some 14 countries including US, Latin America, Australia, France, Italy, Belgium, Austria, Hungary, Turkey, Croatia and S Africa.
A host of Gold Medals
In 1989 and again in 2001, Jenny won the Veterans National Indoor Singles title and won the doubles in that event in 1989, 1990, 1994, 1998 and 1999. She won her first veterans grass court event in the annual Grass Court Championships at Wimbledon in 1994, winning both the singles and doubles. She won the doubles again in 1997 and was both Singles and Doubles champion in 1999. In all, Jenny has collected 8 gold medals to date in international competitions, the latest being September this year (over 75s).
Of course Jenny, who wears her heart on her sleeve as ever, feels very passionate when she plays competitively: 'When you win, tears come, it's just a relief because your concentration is so huge. You see the guys at Wimbledon and they cry, I don't know how they last 4 or 5 sets. Everyone who's competitive knows the feeling'. Despite all the tournaments, the celebrities and the medals, Jenny simply considers that 'I've been lucky'.
It runs in the family...

Tennis has continued to pay a big role in the lives of Jenny's daughters, especially the elder, Michelle. Michelle met Mark Petchey when she and Jenny were playing in the Mother Daughter tournament in Spain. His mother and sister were also playing and Jenny and Michelle lost to them in the final. Mark declared he would marry Michelle the second time they met. Mark of course was to reach world no 80, played Davis cup for GB and is part of the Sky Sports team.
And in 2014 Jenny's 15 year old granddaughter Nicole Petchey made her debut at Harare Sports Club during the ITF international tennis event scheduled there –the very same courts Jenny herself played on as a singles junior and senior champion. Her father too had played there for Rhodesia the generation before. Nicole was followed by her sister Myah this year. Nicole has since been awarded a full tennis scholarship to SMU College in Dallas, and Myah has since been offered the same. So the story goes on!
Jenny has inspired generations of tennis players
Her love for WBC endures. She has seen some changes –still remembers the shale and grass courts –and recalls playing on no 1 court in her first final. But essentially she feels the club has retained its essential friendliness. She voices a real yearning to maintain the appeal to the youngsters –evokes the times not so long ago where the children would come straight from school and do their homework with their parents. She would love to see more parents playing alongside their children, in a distinct echo of her childhood, playing alongside her dad.
She loves the fact that juniors now come increasingly to mix-ins and play with the seniors. But she would like to see the children more involved in the club beyond just coaching, playing with their friends for example. And she would like to see more juniors sponsored by the club.
She has played an incredible role in coaching new generations of tennis players –when asked how many, Jenny has no idea. But she is well known and well-loved at the club by young and old alike.
So what next?
Jenny at 75 declares she is 'taking each year as it comes, one year at a time'. She says she will probably cut back on her coaching commitments. And of course she continues to visit Africa regularly, typically spending her winters there where it's not necessary to don scarf, gloves and thermals to survive on court. But we reckon the odds are on that that Gold medal haul grows yet bigger!
Rosie Riley
November 2018

Photo Gallery