Jacqui and Chris win ladies pairs title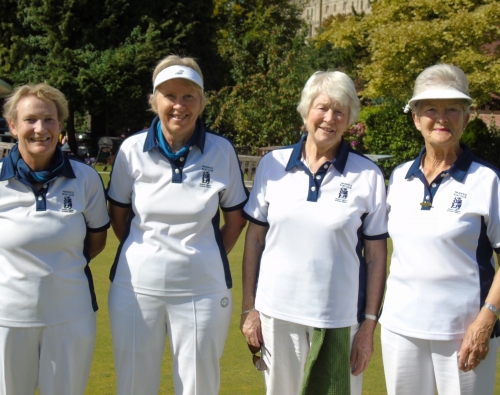 Colin Harris reviews Day 1 of the Finals Weekend
Saturday morning broke to blue skies and warm sunshine.Last year's wahout was not to be repeated. Then news started to filter through that David Hurst was unwell and would not be able to compete in the Men's 2-woods Final. Les Anscombe, his opponent, sportingly agreed to play the match on a later date.
This left the Ladies Pairs as the only match to be played in the morning. The early stages of this match between Pat Carson/Carolyn Labrum and Jacqui Ashley/Chris Hurst was keenly fought. Then with the score at 9 - 7 in Pat & Carolyn's favour jacqui and Chris picked up a four and took a two point lead. The latter pair's experience of regularly playing together started to show through and they gradually pulled away. A late four by the former couple only delayed the inevitable and the game was over after the next end. Jacqui and Chris winning 19 -13.
By the time the second two finals were to start both the numbr of spectators and the temperature had gone up!!
In The Plate Rod Bambridge did not show the form that had seen him push aside experiencd players Celia Bellamy and Chris Hurst. Perhaps it was nerves or lack of experience of playing on the black marks but he struggld to find his line. Regular Plate finalist Vivienne Griffin had no such problem and showed no mercy in winning 21 - 9.
All eyes were now on the far rink where a tense contest was taking place to decide who would win the Mixed Pairs title. No quarter was being given between Cosette Lawton/Martin Dean and Di Wood/David Hurst. The lead constantly changing hands. Into the last end, with Lawton/Dean leading by one. The leads had bowled their final woods with Cosette having two woods handily placed about a yard behind the jack. Martin bowled his first wood and hit the jack, this and his wood then disappeared into the ditch. David, no matter how hard he tried could not keep a bowl on the green to force an extra end. So Martin and Cosette won by four shots. Not a true reflection of the closeness of the game.
Photos: Judith Bambridge and Sandra Dean
Photo Gallery