Dave and Jacqui keep it in the family on finals weekend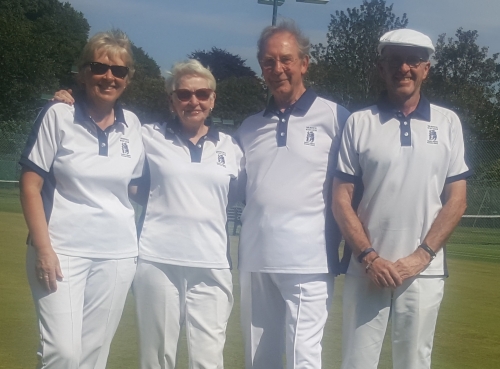 It was a family affair on the Warwick Boat Club finals weekend as Dave Hurst won the 4 woods singles title for the first time and his sister Jacqui Ashley won the ladies' 4 woods singles, also for the first time. Hurst beat last year's winner Les Anscombe 21-20 after 27 exhausting ends. He also won the 2 woods final against Les Anscombe.
Anscombe started well winning 4 of the first 5 ends to take a 5 -1 lead but Hurst then won the next 7 ends after which the score was 11 - 5 in his favour. Some competitive and very close ends followed but Anscombe conceded after the 18th end with the score standing at 16 - 9.
Jacqui Ashley beat Margaret Lawson 22-16 after 24 ends in the ladies 4 woods.
It was another family affair in the ladies pairs final with Jacqui Ashley and her sister-in-law Chris Hurst beating Pat Carson and Carolyn Labrum 18-13. The early stages of this match were keenly fought but with the score at 9-7 in Carson and Labrum's favour the sisters-in-law picked up a four to take a two shot lead and never looked back. 
Earlier in the week it was a case of the Peters slaying the Davids as Peter Lamb and Peter Gawthorpe carried off the men's pairs trophy with a narrow 15-13 victory over Dave Hurst and David Carson. In the mixed pairs final Cosette Lawton and Martin Dean beat Di Wood and Dave Hurst 19-13.  Vivienne Griffin beat Chris Hurst 15-6 (conceded after 17 ends) in the ladies 2 woods final. Griffin also won The Plate, beating Rod Bambridge 21-7. 
Photos by Judith Bambridge, Mary Wheildon and Sandra Dean
Photo Gallery
Files related to this article