World Masters Regatta, Libourne 2022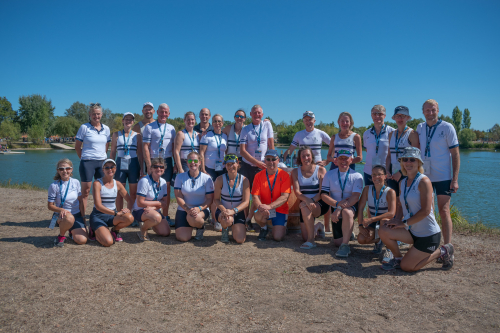 September saw a large number of Warwick rowers head to Libourne in France for the World Masters Regatta. This is an annual event that takes place in a different corner of the world every year and is open to clubs and competitors from all over the world. The events are split by boat and age categories into races of up to 8 crews and are rowed over a 1000m multi-lane regatta course. Needless to say that the standard of rowing is extremely high with ex-olympic and world-level athletes fighting it out for the 1st place. Libourne welcomed over 4000 competitors from 50 different nations, of which 29 came all the way from Warwick.
The racing started on Wednesday 7th September, with strong performances from 3 of Warwick crews, with the highlight being a very close 2nd place for Steve Sidaway and Graham Giles in a double scull event. This was a good taster of what was to come, as both got first places later in the week. Steve Sidaway won the E1x event on the Friday, whereas Graham Giles teamed up with an ex-Warwick rower from Abingdon Sam Mercer to win the C2x event on the Saturday. Huge congratulations go to all three - you really made Warwick proud.
Other notable performances have been the Women's D8+, that saw a few women return to rowing this year and race for their first time after a long break, brilliantly coxed by Sam Wesley and crossing the line in a 3rd place. Another successful composite crew made up of Warwick and Bristol rowers came 3rd in the D4x event - not a bad result for their first outing considering they had never trained in that combination before! A special mention goes to Liz McEvoy for racing in a single scull in a WC1x event - a special moment for her as she raced it in honour of her coach in Australia, achieving both her goals of not capsizing and not coming last!!
Sunday saw mixed racing, with crews made up of 50:50 men/women. Mixed rowing is quite unusual in the world of rowing, so tends to be more informal, fun and with more scratch crews. Highlights were seeing David Tarbun race in an eight after many years' away from rowing, a Warwick MixC4x gaining a 3rd place, and finally Sam Wesley and Graham Giles crossing the finish line 2nd to complete the racing for Warwick, much to the applause and cheering from all of our squads.
Overall, this was a fantastic week for Warwick, with all the hard training paying off, inspiration for future goals found, and lots of memories made. Big thanks go to Jon Martin and Simon Beard for towing the boats to and from the venue, to Kate Rider for organising us and our equipment throughout the week, and to David Tarbun for taking on a volunteering role at the event.
Based on the performance over the week of racing, Warwick Boat Club has scored 171 points, placing us 4th out of the 30 British clubs that attended the event and 15th in the World. This is a huge achievement for Warwick, which wouldn't be possible without all the hard work of our athletes, coaches and volunteers.

Full Results for Warwick:
Wednesday 7th September
E4+ -- Andy, Chris S, Jon, Simon, cox Tanya -- 7th
WB4x -- Polly, Barbara, Sarah, Kerstin -- 7th
D2x -- Steve, Graham -- 2nd (only 0.7 second behind 1st!)
Thursday 8th September
WA4+ -- Barbara, Sarah, Kerstin, Polly, cox Tanya -- 7th
D1x -- Graham -- 6th
D1x -- Steve -- 4th
WC1x -- Liz -- 6th
G4x -- Chris M, Mike, Martin, Ken -- 6th
E4x -- Andy, Chris S, Jon, Simon -- 7th
Friday 9th September
WD8o -- Esther, Deirdre, Haidee, Kate H, Kater R, Tanya, Alicia, Hayley, cox Sam W -- 3rd
E1x -- Steve -- 1st (WIN!!!)
WB4+ -- Barbara, Sarah, Kerstin, Polly, cox Tanya -- 6th
WE2x -- Yana, Hilary -- 5th
E4- -- Andy, Chris S, Jon, Simon -- 7th
WB2x -- Kerstin, Polly -- 8th (only 0.01 second behind 7th!)
Saturday 10th September
D4x -- Jon, Steve, composite with Bristol -- 3rd
C2x -- Graham, Sam M -- 1st (WIN!!!)
WC2x -- Sam W, Hayley -- 6th
WC2x -- Ruth, Liz -- 6th
WD4x -- Yana, Hilary, Ruth, Liz -- 5th
WE4+ -- Esther, Kate H, Deirdre, Haidee, cox Sam W -- 6th
Sunday 11th Sunday
MixD2x -- Kerstin, Simon -- 7th
MixC8o -- Polly, Kerstin, Barbara, Sarah, composite with Spain, cox Tanya -- 4th
MixE8o -- Deirdre, Esther, Kate H, Haidee, Chris M, Mike, Ken, David T, cox Tanya -- 5th
MixC4x -- Graham, Sam M, Hayley, Sam W -- 3rd
MixD4x -- Ruth, Liz, Steve S, Andy S -- 7th
MixE4x -- Yana, Hilary, Chris S, Jon M -- 7th
MixC2x -- Sam W, Graham G -- 2nd
(all photos by Yana Vinogradova)
Photo Gallery