Warwick Wows at Worcester!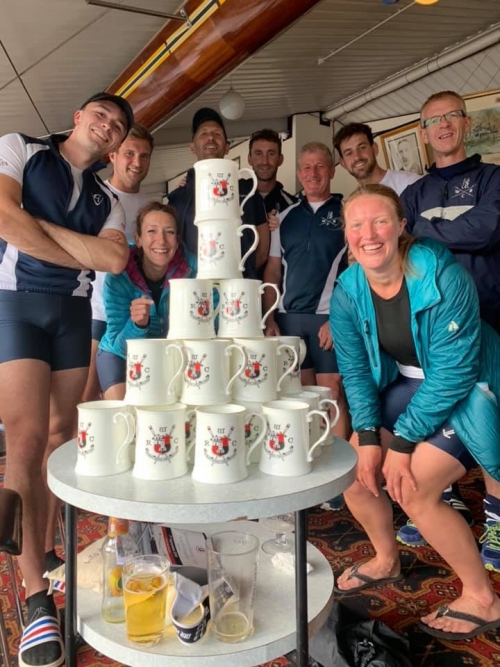 It was a cool Saturday morning when two full trailers set off from Warwick Boat Club to Worcester for a day full of racing. In the morning division the men's pair won easily, shortly followed by a strong win by the men's eight, beating Worcester at home. Steve Sidaway and Graham Giles beat their opposition to win the masters D double event in one of the first two-round battles of the day, closely followed by the men's masters four who won easily against our friends Avon County. Next up the women's pair of Vicki Rothwell and Emma Raynor beat City of Bristol by four lengths, despite them having a good advantage off the start.
The afternoon division began with sunshine and another win for Steve in the single in the heat and his semi-final, before meeting up with an old rival in the final and just losing in a close race. Vix and Polly won the semi-final in their Band 2 women's double, but unfortunately just lost out in the final. Vicki Rothwell and Emma Raynor won their semi-final in the Band 1 women's double, going on to take the win against Minerva Bath by three lengths in the last WBC race of the day. The men's performance coxed four again beat Worcester in a straight final, getting some high praise from the commentators. Next up was the men's coxless four who cleanly beat their opposition by five lengths in a strong performance. From the junior squad William Burns won the J15 single, closely followed by the girl's J17 double of Antonia Elliott and Eleanor Stratton who beat their opposition easily.
Well done to all the Warwick crews who raced on Saturday, not just those who won. We had 19 crews entered and 10 wins, resulting in an incredible pot pyramid being built in the bar at Worcester. The atmosphere was great with loads of support for our crews and people around to help carry blades and move boats. Thanks go to Steve Sidaway and Vicki Rothwell for providing cake! The trailer loading and unloading went smoothly – thank you to everyone for making the time to come and help – and unloading was followed by delicious fish and chips at the club for those who hung around.
Now we're into head season, so pull out your pogies, hoik up your hats, jump on those ergs and get training for the Tideway!
Photo Gallery