Success for the rowing section at Stourport Regatta!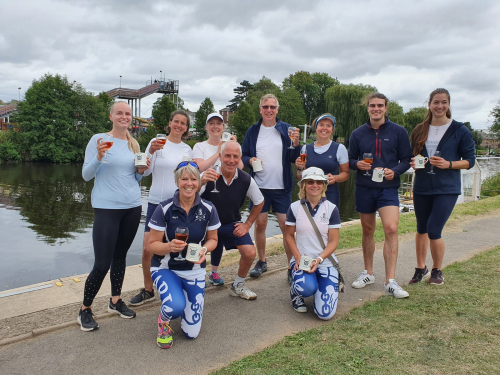 Warwick Boat Club's rowing section enjoyed a very successful weekend of competition at Stourport Regatta with 7 wins between them. On Saturday the 14th of August a fully loaded boat trailer left the club bound for North Worcestershire and The River Severn. A total of 18 Warwick crews would line up to race in Saturday's regatta, so the action came thick and fast. For at least 4 of the rowers in action, Stourport Regatta marked their first ever experience of racing, but as ever the section rallied round to help them find their bearings, boat safely and (hopefully!) enjoy the day. Plenty of cheering, fuelled by delicious cake and tasty burgers from the excellent catering at Stourport, ensured Warwick rowers could always hear support from the bank to help drive them on.
A very successful day saw a total of 7 wins for Warwick on the Saturday - a fantastic result! The winning crews were:
● Will Burns in the J16 1x
● Bill Haynes, Simon Beard, Jon Martin, Richard Pember, Ivor Westmoore, Andy Speechly, Chris Stratton and Steve Burns, coxed by Yana Vinogradova, in the Men's Masters D/F 8+
● Andre Delahaye and Paul Gosling in the Men's Masters B/C 2x
● Simon Beard, Steve Burns, Bill Haynes and Andy Speechly in the Men's Masters E 4x
● Steve Sidaway in the Men's Masters D/E 1x
● Will Burns and Tom Beard in the J16 2x
● Andre Delahaye and Paul Gosling in the Open 2x
Congratulations to all winning crews and, of course, well done to all those who raced. As mentioned above, several rowers were experiencing the nerves that come with lining up on the start line for the first time and should be very proud of their achievements. Other crews won several rounds of racing only to lose out in finals or semi-finals to some high-class rowers. As the last boat was packed away just after 9pm that night, WBC's rowers could feel proud of an excellent showing at this popular local regatta.
The next day saw some of our recent Learn to Row graduates head to Stourport themselves, this time to take part in an invitational regatta for those very new to our sport. A lovely way to experience racing but without the same hustle and bustle as a busy regatta, this event proved very successful for Warwick's latest recruits. Both quads, coxed by Kate Evans and Tanya Podinovskaia, secured some wins, demonstrating technical finesse and power they've acquired over the last 3 months, and which meant 10 of Stourport's china tankards came back to the boat club with their happy new owners. A very big 'well done' to Freya Knowles, Etienne Chenel, Jon Parker, Mary Lack, Anna Lockhart, Dani Darling, Richard Gold and Wenke Langhof-Gold.