Indoor tank sessions at Oxford University help Warwick crews row towards success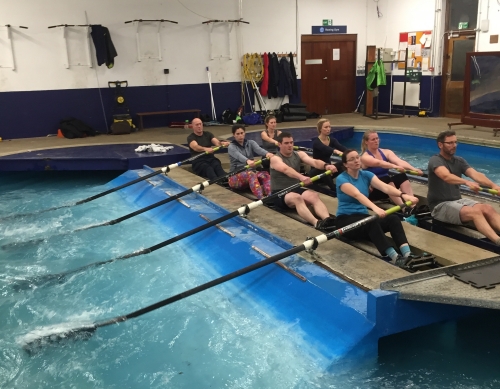 Warwick Boat Club's rowing section ran two indoor training sessions at the Oxford University Rowing Tank in November, coached by Barry Meatyard, Tanya Podinovskaia and Nick Lindstrom. The tank sessions were attended by both recent Learn to Row graduates and more experienced rowers, both keen to take the chance to develop their techniques during the cold and dark winter months.
The indoor tank sessions offered Warwick's rowers the opportunity to work on exercises that can be tricky on the water and take advantage of the fantastic coaching at hand, helping to correct minor issues and bad habits before they become engrained.
The Oxford University Rowing Tank is a wonderful facility for Warwick Boat Club's rowing section to have at our disposal, particularly during the winter training period when water time can be hard to find. If you or your crew are interested in visiting the tank, please speak to Tanya who can provide you with the booking process details.