Warwick Town Triples Bowls Competition 2020 entries invited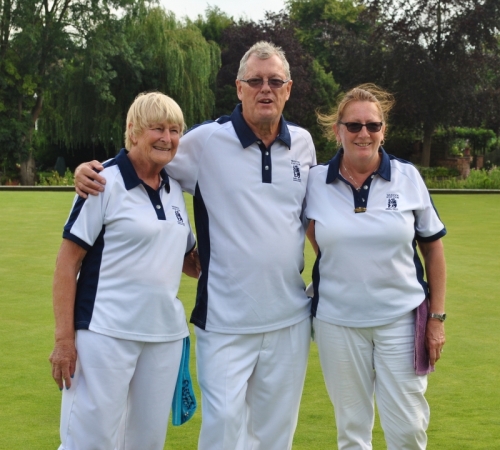 Last year a Warwick Boat Club team comprising of Martin Dean, Sandra Dean and Co-sette Lawton won the Warwick Town Triples trophy and became the champions following a victory by a Warwickshire County Council's team in 2018.
Entries are now being accepted for this year's Warwick Town Triples. The competition is open to anyone living in Warwick (postal code CV34) or belonging to a Warwick based bowls club. Mixed Triples Teams must comprise of either two ladies and one man or two men and one lady. This year the semi-finals and the final will take place at the Warwick Boat Club on Sunday 2 August 2020.
The Warwick Town trophy originally dates back to 1914 when it belonged to the Warwick Town Bowls Club who played crown green bowls until the club was dissolved in the 1950s. The competition was revived in 1995 by the Mayor Bryn Brewster and the Warwick Boat Club has staged this annual Bowls Competition ever since.
The 2020 entry forms are available from the Coordinator, Sandra Dean, Telephone 01926 491154, or email: mnsdean@hotmail.co.uk . The deadline for receipt of entries by the Coordinator is Friday 6 March 2020. The competition draw will take place at the Warwick Boat Club on Friday 20 March 2020. The Coordinator will notify the nominated team contacts of a list of competing teams and the various match deadlines by early April.