Tennis 3 win revived Brophy Trophy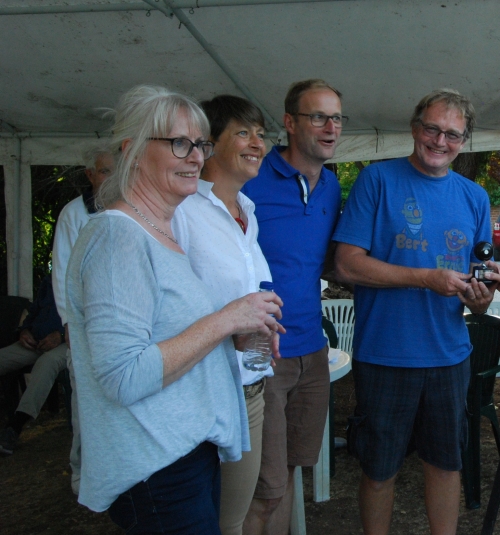 Report by bowls gents captain Colin Harris
Warwick Boat Club held their last event of  the season on September 21 by reintroducing the Brophy Trophy.
This is competed for by the rowing, squash and tennis sections of the club using the American Tournament format. Members of the bowls section organised and supervised the event, to ensure fair play.
Bowls traditionalists would have shuddered at some of the clothes worn by the players but the object of the day was fun. Plenty of laughs, especially when a bowl was seen skittering across the green from rink two to finish up almost on rink four. To save embarrassment the culprit will remain nameless.
Skill levels improved during the afternoon as players got the idea of how to play the game. Most had never picked up a bowl before the day.   At the end of the day, when the dust had settled, the winners were Tennis 3, who won all their games. Captain Graham Burke led his team of Caroline Halliwell, David Halliwell and Sheila Shakespeare 'up the steps' to collect the trophy from Bowls Section Captain, Martin Dean. 
Before the major event a Spider event was held and was won appropriately by a rower, Aaron. The proceeds from the Spider will be passed to the rowing section to be added to their money raised for the charity Lymphoma Action.
On behalf of the Bowls Section I would like to congratulate the rowers on their efforts on winning the Great Ouse Half Marathon. Overall a great afternoon, played in lovely sunny conditions. I hope everyone enjoyed themselves and tell their fellow members and friends that bowls is a FUN sport played by all ages. I hope to see you all next year.
A final word to thank Martin Dean and his team for their patience and understanding in advising the players.
Photo Gallery