Boat Club entertains County ladies' officers.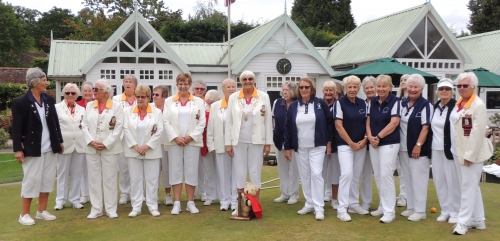 Mary Wheildon reports on the WBC Ladies v Warwickshire Women's Bowling Association Officers match.
The Officers arrived for their Annual end of Season Match on thankfully a sunny afternoon. After a photo-call, a very friendly & certainly not serious match was enjoyed by all who took part.
Rink 1 saw Donna Kerr, Rosemarie Geden & Jenny Corn playing against WBC's Judith Bambridge, Jill Minett & Sandra Dean. The Officers got off to a very good start, eased off during the central part of the game allowing WBC to match their 6 shots at 10 ends but towards the end it was WBC who lagged momentum losing 11 – 18.
Rink 2: Here we had Ann Doherty, Mo Yeomans & Elaine Taylor playing Jacqui Ashley & WBC Captain for the day Mary Wheildon. Again the County got off to a good start & were up 7 – 2 after 7 ends. At this point WBC got their act together & kicked on finishing on the winning side 19 – 16.
Rink 3 found Liz Chedgoy, Joy Cooke & WWBA President Chris Cooke opposing Trisha Harrison, Celia Bellamy & Carolyn Labrum. WBC were on their starting blocks winning the first 2 ends but very soon the Officers found the line & were away. Although the WBC team rallied at times & with a score against them of 8 on one end the Officers were the winners 25 – 11 but good fun was had by all.
Rink 4 was a different story. Chris Ward, Maureen Edwards & WWBA SVP Debbie Bloxham were totally out bowled by Pam Parker, Cosette Lawton & Vivienne Griffin – aided by a 4 on the 10th end & a 3 on the last, WBC were the highest winning rink of the afternoon scoring 17 – 8.
The tea, provided by the WBC caterer Sarah was enjoyed along with an enormous amount of banter.
The upcoming 2020 WWBA President Mary E Wheildon of WBC showed a short video of her Presidential Charity: Mary's Meals - www.marysmeals.org.uk which provides meals for children in the poorest of countries where poverty & hunger prevent them from gaining education. Every £13.90 raised feeds a child for a whole school year.
Mary will also be giving a Power Point talk at the WBC on October 18th 7pm. on The North West Passage & the history of the ships that went in search on it. Tickets available: see WBC Bowls website. Photos by Jill Minett.
Photo Gallery